Happy New Years, everybody!! :D
I'm gonna talk a little bit about some of my favorite notable things to happen this year on here, although you should definitely check out @TomFulp's 2020 retrospective here because I'm kinda just going over my thoughts on what he's already talked about :P (And like usual, I'm making this post when I'm super tired, so sorry if everything I say here doesn't make any sense LOL)
First of all, I know the year has been crappy in general, but I'd reckon 2020 has been a pretty great year for Newgrounds! Friday Night Funkin' has become wildly successful and has brought in a ton of new members to Newgrounds, and I know @ninjamuffin99 has been doing his best to make sure that people who come here for Friday Night Funkin' know what a wonderful community Newgrounds is.
The TANKMas Adventure was such a fun experience (especially with @Snackers' Duncan & Jones 3 Premiere!), Dead Estate was one of the coolest games I played on Newgrounds in a while, and @Xinxinix's Secret Santa was such a wonderfully happy occasion.
I think the @TheNewgroundsPodcast Block Party is probably not only my favorite thing to happen on Newgrounds this year, but my favorite thing that happened in general this year. I had such a blast and it helped me forget about some of the events I was supposed to go to this year that got cancelled.
Also, this wasn't mentioned in the "official" 2020 retrospective but I want to give a little shout-out to @Little-Rena's BBS Awards 2020. Although I sadly don't post nearly as much in the BBS anymore, it's still a very nice community and I'm happy that the tradition of the BBS Awards has been able to continue with this much love and care put into it!
Now time for the fun part! What are my plans for 2021?
Well, I'm glad you asked! First of all, I really hope to get done with my animation! I've been working very hard on trying to make it the best it can be, with constant revisions and different versions of flash to try and make it the best first episode that it can be. I know it's probably a bit silly to spend this much time animating on the first episode instead of just getting it done and making the next episodes better, but I really want to have an end product that I can be happy with as my starting point!
Here's a comparison between one of the first versions of one of my characters, versus one of my latest: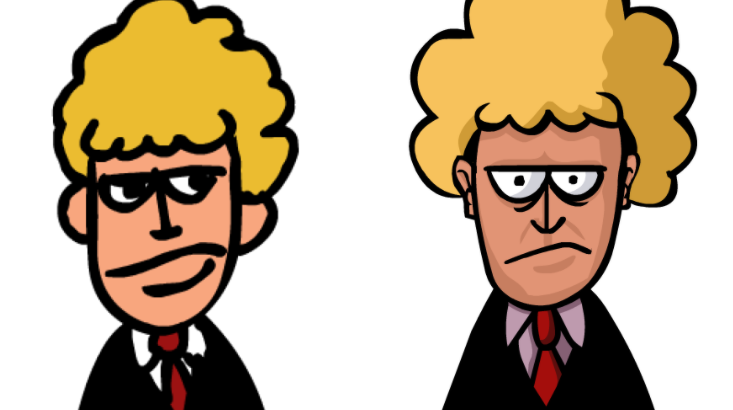 The one on the right actually isn't very accurate to how the end product will be, I've decided against shading it so I can do frame-by-frame easier. I found out the hard way that tweening just isn't really my thing ;-; But hopefully this helps represent how much I've been working on it!
My other plans include going to more events (mostly concerts and festivals, but I might also be going to conventions like TooManyGames!) and getting caught up with schoolwork.
To end off this post, I thought it'd be fun to shout out some of my friends!
I'm gonna be specifically shouting out friends who I've known for a long time outside of Newgrounds, so that people in the Newgrounds community can check them out. Most of these people have more followers then me so I guess it's kinda pointless for me to do this, but I still thought it'd be fun :P
@KOLSAN - Kenny is legitimately one of my best friends, I've known him for such a long time and he's always been such a cool person and a great bro to call with. He's an amazing artist and he recently got his art frontpaged on here and I could not be prouder! It's been such a wonderful experience seeing your art grow. Hopefully I'll be able to call with you and the rest of the gang again real soon!
@WooDeeWoo - David is not only the most multi-talented person that I know, he's honestly one of the kindest people I've ever had the pleasure of knowing. He's also one of my best friends, he does absolutely amazing art and I even commissioned him to make a piano piece for my animation!
@FlorenRED - Floren is a very great friend of mine and he's also one of the kindest people I know! He's also a very talented artist who mainly draws video game and anime related pieces. And he also draws a lot of butts, if you're into that kind of thing. Go check him out!
@distemgla - Ivan is, again, a very great friend of mine! He's also one of the more "experimental" artists on this list, seeing as how he always changes his style and tries new things. He has a ton of potential, and I'm glad to see him grow as an artist. Go check him out, and let him know what you think works and what doesn't!
And that should be it for now! Thank you for reading all of this, and I hope you all have a great new years!!